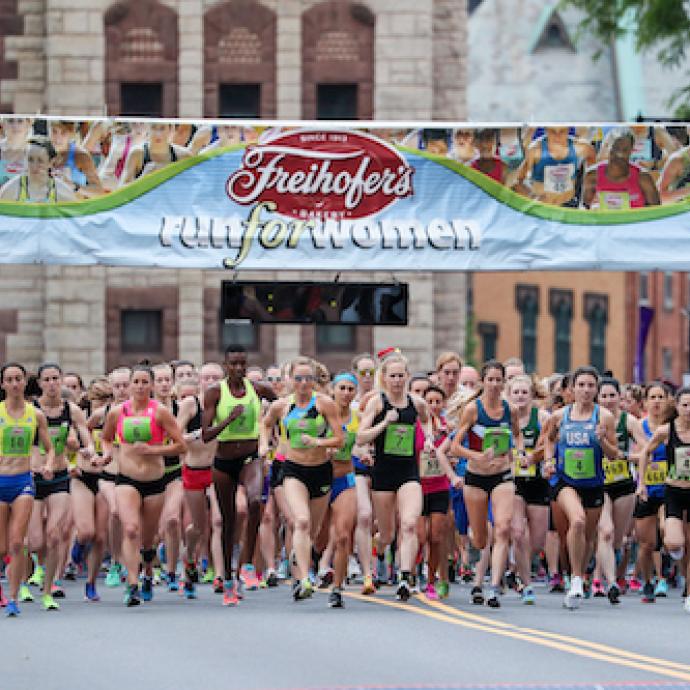 Registration Open for 43rd Freihofer's® Run for Women on Sept. 25
11-Week Training Challenge to Shape Up for Race Day Begins July 12
ALBANY, N.Y. (April 19, 2021) - Online registration for the 43rd Freihofer's® Run for Women, which is set for Saturday, Sept. 25 at 9 a.m., is now open at freihofersrun.com.
All registrants will receive a high-performance women's commemorative t-shirt. Other perks include: a box of delicious Freihofer's ® chocolate chip cookies, a fresh loaf of Freihofer's® bread, chip timing, live results, printable finisher certificates, and post-race refreshments courtesy of Price Chopper Supermarkets. To sign up, visit freihofersrun.com.
Runners of all abilities looking to get in shape for the Capital Region's premier all-women 5K road race can also sign up now for the 11-week Freihofer's® Training Challenge, which begins Monday, July 12. Online registration through the 5K registration is the only method of registering for the program.
The Training Challenge follows a beginner's 5K training plan and features small groups led by mentors, as well as a virtual option. The program costs $55 and includes a tech shirt; seminars and clinics relating to strength training, nutrition, injury prevention, running form and core strength; and, offers from program partners.
"Our Training Challenge typically kicks off in March when it's blustery and there's still snow on the ground," said FRW Event Director Kristen Hislop. "This year, with our 5K moved until the fall, we're excited to kick off our program during the warmer summer months. We hope the nicer weather encourages more people to come and run with us."
"Whether you join the beginner or advanced group, each session builds on the previous. Our beginners will start with 60 seconds of jogging and 90 seconds of walking," Hislop said. "We alternate that for a total of 20 minutes. Each workout includes a dynamic warm-up, followed by stretching at the end. The program is tailored to all levels of runners and features awesome mentors who join you on your workouts."
To register for the Training Challenge or virtual program, visit freihofersrun.com and click on the 43rd Freihofer's Run for Women. Registration closes on Sunday, July 25. A dedicated Training Challenge Facebook page can be found at facebook.com/freihoferstrainingchallenge.
For more information about the 43rd annual Freihofer's ® Run for Women, 33rd annual Kids' Run and 11th annual Freihofer's® Junior 3K Run, visit freihofersrun.com. From the home page, you can also link to the event's Facebook, Instagram, Twitter and YouTube pages.
Event sponsors include Freihofer's, Price Chopper Supermarkets, The City of Albany and 99.5 The River.
-30-