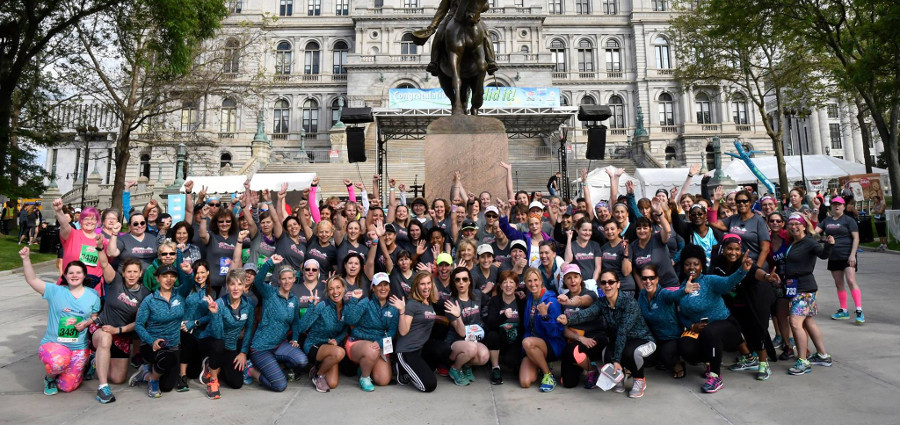 Please visit the Freihofer's Training Challenge Facebook page to learn about the program and get updates.
To sign up for the 12th Training Challenge please register for the 5K. You will have the choice to sign up for a virtual Training Challenge or further along in the registration process for the in person Training Challenge. Sign up will be open through April 8, 2022.
The Freihofer's Training Challenge prepares you to run in the Freihofer's Run for Women 5K. We offer a beginner program for those who are new to running. Our intermediate program is a great option for those who completed last year's challenge or want more interval workouts. Our advanced program is for those athletes ready for focused speed and distance workouts. If you are already running five (5) or more miles at a time this is the track for you. New this year are the speed walking and run/walk tracks. We know many want support to walk the 5K and this program will gradually build you up over 11 weeks. The walk/run program is great for those who want to alternate between a run and walk over the course of the 3.1 miles.
For 11 weeks starting March 21, give your motivation a boost, improve your performance and make some new friends by joining the challenge. We have a number of workouts available over the course of the week to fit your busy schedule.
Once you join the Training Challenge, you'll join your mentors in a fun weekly training program. At each workout session you will choose your track and complete those workouts. Your mentors are there to support you in this journey.
When you register for the in person Training Challenge you will choose your location. This helps us plan for mentors. We encourage everyone to attend on Saturday mornings. We do find that the more workouts you do with our mentors the easier it is to complete the program. 
How to Enter
Online registration through the 5K registration is the only method of registering for this program. The cost of the program is $55. The Virtual Program is $40. If you are already registered for the 5K but want to join the program, e-mail .
Those taking part in either program will receive:
12 week membership with the Capital District YMCA (you can use your membership at any branch, any day)
3-5 workouts each week
Video tips
Custom Training Challenge t-shirt
Great clinics with Fleet Feet Albany/Malta and classes throughout the program (for in person participants)
In person training session (for the in person participants)
Don't forget to join us on our Freihofer's Training Challenge Facebook page !
If you have any questions, please email the Freihofer's Run for Women at .
Locations
Monday Sessions
Wednesday Sessions
6:00 p.m. – Guilderland Y – 250 Winding Brook Drive Guilderland, NY 12084 
6:15 p.m. – Southern Saratoga Y (1 Wall Street, Clifton Park) ( Get driving directions ) 
6:00 p.m. – Bethlehem Y – 900 Delaware Avenue Delmar, NY 12054
6:00 p.m. – East Greenbush Y – 20 Community Way, East Greenbush, NY 12061
6:00 p.m. - Saratoga State Park, 19 Roosevelt Drive, Saratoga Springs, NY 12866 
Saturday Sessions
FAQs
Q. Do I have to be registered for the Freihofer's Run for Women to be able to sign up for the Training Challenge?
A. Yes.
Q. Who is coaching this program?
A. Kristen Hislop, Director of the FRW, has been with the program since its inception. There will be various workouts over the 11 weeks. Sharon Maltbie is Challenge Director. She will be assisted by our incredible volunteer mentors. These women all started where you are now. They can answer questions, motivate, support and commiserate.
Q. What's the difference between the Full Training Challenge and Virtual Training Challenge?
A. The full Freihofer's Training Challenge is a paid program that involves coaching and group training workouts. You can sign up when you register for the Freihofer's Run 5K or by e-mailing . The Virtual Training Challenge will receive the same benefits as the full program except for the in person workouts and clinics. The Virtual Program is just $40. All full Freihofer's Training Challenge participants automatically get signed up for weekly e-mails. All participants will receive the 12-week membership to the Capital District YMCA.
Q. I'm not receiving the e-mails. What do I do?
A. If you signed up and haven't seen any e-mails, please check your spam folder and make sure that "" has been added to your Address Book. Otherwise, please e-mail "" with details and we will try to help.
Q. Where do Full Freihofer's Training Challenge participants meet?
A. You can choose from a variety of workout times and locations (all listed above). We would like you to choose one location when you register. We will encourage your small groups to gather for your other workouts during the week.
Q. Do I have to run with the Training Challenge on June 4, 2022?
A. You can run alone, with friends from the Training Challenge or anyone you choose. We will have a special tent dedicated to the Training Challenge. We will take a group photo before the race and do a warm up run together.
Q. Why is the Training Challenge so inexpensive?
A. Our goal is to get more women running. We know from experience that it can be really tough to get started. We are taking away as many barriers as possible. You'll get great coaching and support from our team throughout your 11 weeks. Most other programs are at least double the cost. You even get a gym membership for FREE!
Q. I am interested in being a mentor. What should I do?
Please contact us at sharonjmaltbie@gmail.com and we will get you set up.
Disclaimer: The information presented by trainers and educators at weekly training sessions is solely informational so that participants can learn more on different health subjects. Nothing contained in the presentations or discussions is intended to constitute, nor should it be considered, medical advice or to serve as a substitute for the advice of a physician or health care provider. Any information provided is not intended to treat or cure any disease or condition. Always consult your health care provider for all health, diet and weight loss management.
The information should not be considered complete, nor should it be relied on to suggest a course of treatment for a particular individual, nor is it intended to refer you to a particular medical professional or health care provider. It should not be used in place of a visit to, consultation with or advice of a qualified health care provider.
The material is made available with the understanding that we are not engaged in providing diagnostic and treatment advice in this setting. Should you have health care questions, call or see your qualified health care provider promptly. You should never disregard medical advice or delay seeking it because of something you have heard during any portion of the training program. No promises are being made that the information in the presentations will be error free, or that it will provide specific results.
Participation is solely at your own risk. By participating in the training program you understand and acknowledge that everyone that contributes any information during the training program disclaims any liability to you, and all such persons are not liable for losses or damages which may result through the use of information, products and services in the presentations or any other material or information exchanged or related to the training challenge.