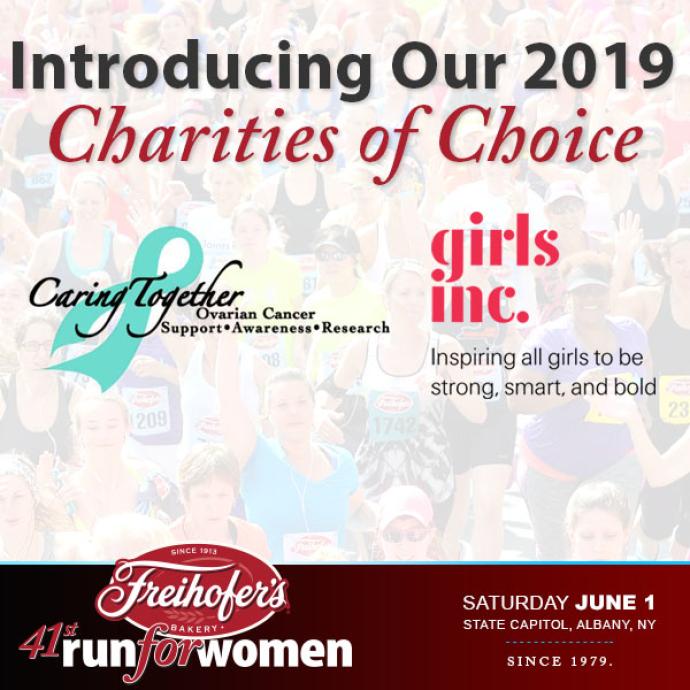 Freihofer's® Run For Women To Award $10,000 To Girls Inc. And Caring Together, Inc.
Donations Will Come from 2019 Participant Registration Fees
ALBANY, N.Y. (May 14, 2019) — Two local charities with women-focused missions will receive checks totaling $10,000 from the 41st annual Freihofer's Run for Women event registration fees.
Girls Inc. of the Great Capital Region aims to inspire all girls to be strong, smart and bold. The organization, which has offices in Albany and Schenectady, serves more than 1,000 girls annually through its award-winning, research-based programs, which are offered through after-school programs, school vacation week programs, Summer Fun Camps, Eureka!, and other outreach programs.
"Girls have the right to accept and appreciate their bodies and are entitled to thrive in communities that invest in their total physical, mental, and emotional wellness. Girls also need access to information, resources and skills to be effective partners in promoting their own healthy development," said Ashley Jeffrey Bouck, executive director, Girls Inc. of the Greater Capital Region. "We are so grateful that the Freihofer's Run for Women has chosen to partner with us and invest in our local girls."
Albany-based Caring Together, meanwhile, plays a leading role in the battle against ovarian cancer, the fifth leading cause of cancer-related deaths among women in the United States. The group is dedicated to providing support, education, and advocacy for women with ovarian cancer and supporting research efforts aimed at finding an early detection test and a cure.
"We're very excited about the opportunity to work with the Capital Region's most time-honored and empowering sporting event," added Maggi Royle, president of Caring Together Inc. "The Caring Together community is full of wonderful people with inspirational stories of survival and thriving despite dealing with ovarian cancer.  We are extremely grateful to have another venue to spread awareness of ovarian cancer."
"Freihofer's tagline is `The Pride of the Neighborhood' and we care deeply about the Capital Region community," noted FRW Co-Director Kristen Hislop. "Race day is as much about fostering health and fitness as it is giving back to our regional community. As such, we are pleased to not only donate to Girls Inc. and Caring Together, but also to six additional charities through our Charitable Partners Program. That initiative provides funds to non-profits that provide the event with race day volunteers."
Girls Inc. and Caring Together will accept their checks at the Freihofer's Run for Women's Media Hour, which is set for Friday, May 31 from 2-3 p.m. at the Renaissance Albany Hotel, 144 State Street in Albany.
Event sponsors include Freihofer's, Price Chopper Supermarkets and The City of Albany. Media partners include 99.5 The River and the Times Union.
-30-