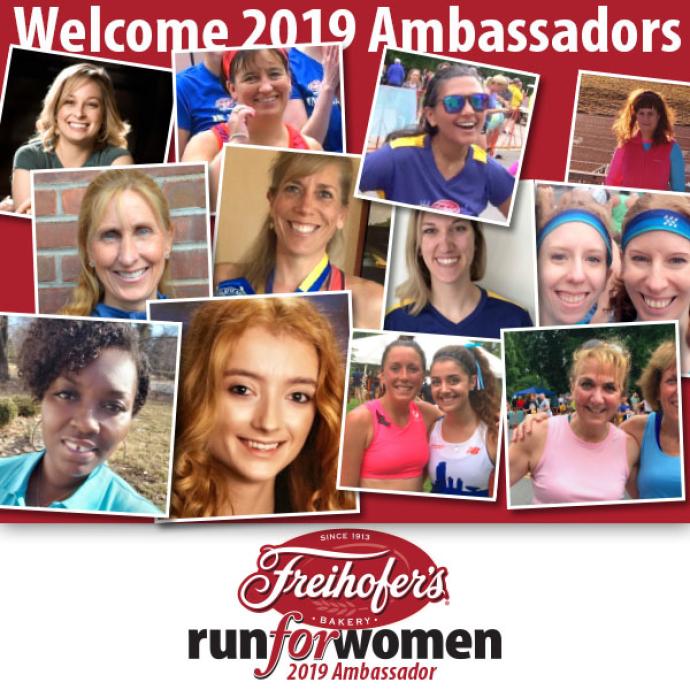 Freihofer's Run for Women Announces Ambassador Program
12 Women Chosen to Represent Race at Community Events, Regional runs, and on Social Media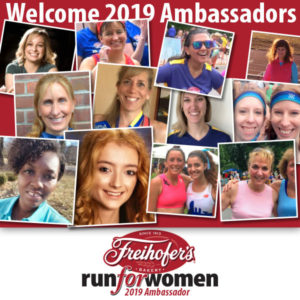 ALBANY, N.Y. (March 27, 2019) — Officials at the Freihofer's®Run for Women today announced the launch of the event's Ambassador Program, an initiative designed to encourage more women to get involved in one of the nation's most prestigious all-women's road races.
"As we head to the 41st Freihofer's Run for Women, thousands of women have experienced the empowerment, joy, sisterhood and fun of the Freihofer's Run for Women," said FRW Co-Director Kristen Hislop. "But we know we can touch more lives, so we decided to introduce the Freihofer's Run for Women Ambassador Team."
The application process began in March and an outstanding group of women applied. A committee then reviewed the applications and whittled the field to 12 women who have not only made the event a part of their lives, but also have a strong social media presence and can inspire others to take part. These individuals will represent the race at community events, other regional runs, and on social media.
Chosen this year were Trishna Begam (Latham, N.Y.), Jennifer Bell (Dalton, Mass.), Shea Foley (Slingerlands, N.Y.), Olivia Frempong (North Greenbush, N.Y.), Kristen Garzone (Troy N.Y.), Kristen Hislop (Clifton Park, N.Y.), Jodie Johnson (Greenwich, N.Y.), Sharon Maltbie (Nassau, N.Y.), Amanda Perri (Albany, N.Y.), Natalie Scibetta (Easton, PA), Stephanie Wilkinson (Albany, N.Y.), and, Benita Zahn (Halfmoon, N.Y.)
"Everywhere I go women tell me stories of their first/fastest/most fun/or comeback Freihofer's Run for Women," added Hislop. "We hope our Ambassadors will share their inspirational stories with even more women with the goal of encouraging others to experience the long-term benefits of a healthier lifestyle."
All Ambassadors receive complimentary entry into the 2019 event, two free entries to give away, discount codes to offer at races and events, as well as great event merchandise to wear at area races.
For more information about the 41st annual Freihofer's®Run for Women, 32nd annual Kids' Run and 9th annual Freihofer's®Junior 3K Run, visit freihofersrun.com. From the home page, you can also link to the event's Facebook, Instagram, Twitter and YouTube pages.
Event sponsors include the Charles Freihofer Baking Company, Price Chopper Supermarkets and The City of Albany. Media partners include 99.5 The River and the Times Union.
-30-