Pagano's Closing Kick Earns Her Victory at 40th Freihofer's Run for Women 5k
Syracuse Native, Three-Time Olympian Rhines repeats as Event's Masters Champion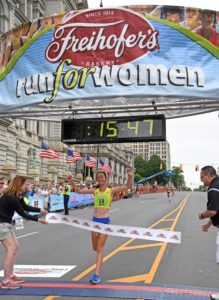 ALBANY, N.Y. (June 2, 2018) – Sarah Pagano of Brighton, Mass., surged to the lead in the final 400 meters and won the 40th annual Freihofer's Run for Women with a time of 15 minutes, 48 seconds.
The 26 -year-old was the first of 3,567 participants to complete the 5K course on a breezy, overcast morning in downtown Albany, N.Y. She earned a $10,000 prize and matched her personal 5K record.
"I'm really happy," said Pagano, who runs for the Boston Athletic Association. "I came in and just wanted to compete and not worry about anything else, just do the best I could. I'm really happy to be able to come away with the win."
Pagano, who ran track at Syracuse University and was the 2012 Big East outdoor 10,000m champion, was five seconds ahead of runner-up Steph Bruce (Flagstaff, Ariz.).
Diane Nukuri (Flagstaff, Ariz.), a three-time Olympian representing her native Burundi before becoming a U.S. citizen last year, led for most of the race and placed third.
Kelsey Chmiel, a 16-year-old from Greenfield Center, N.Y., who runs for nearby Saratoga Springs High School, was 10th with a time of 16:45.
The race began adjacent to the New York State Capitol under comfortable conditions with low humidity and temperatures in the upper 60s.
Nukuri and about seven other runners quickly put several meters distance between themselves and the rest of the field. They wrapped up the first kilometer, a mostly uphill stretch along Washington Avenue, in 3:16 and the first mile in 5:13.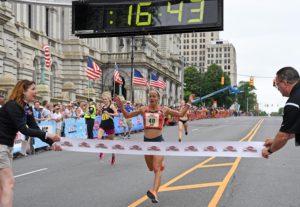 By the time the leaders turned into the tree-lined Washington Park, Pagano, Bruce and Nukuri established themselves as a clear lead pack with Nukuri running a few strides ahead through the winding, hilly pavement and covering the first two miles in 10:25.
Nukuri appeared to be pulling away as the leaders turned back onto Washington Avenue for the final kilometer. But Pagano soon made her move, flashing a strong finishing kick with about a quarter mile left that vaulted her into the lead. She motored the last kilometer in 2:56.
"I knew there was a big downhill," Pagano said. "From the looks of it on the way out, I knew we were going to have a tailwind. I was hurting. We all were. But it got me thinking, 'Hey, I don't have to settle for second or third.' I'm still in this. I decided to give it one last push."
Pagano emerged as the winner from a deep field that included Allie Keiffer (Buffalo, N.Y.), who was fifth at the 2017 New York City Marathon, and Emma Bates (Boise, Idaho), who was the 2014 NCAA 10,000-meter champion while competing for Boise State. Kieffer placed fourth (15:56), and Bates was sixth (16:09).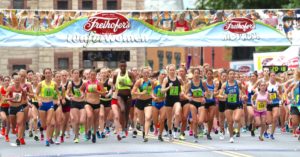 "I've had this race on my mind the last couple years and didn't work out with my schedule," Pagano said. "I thought this was a perfect year to come and get ready for the next couple races. I was really excited it was able to work out."
In the masters (over 40) division, Jen Rhines repeated with a time of 16:44. The 43-year-old from San Diego, Calif., was half a minute faster than she was in winning the 2017 masters race.
"It's really fun for me to come back to Upstate New York," said Rhines, who was raised outside Syracuse, N.Y. "I grew up watching eight-time winner Lynn Jennings run at the Freihofer's. I had run it a few times earlier in my career and then didn't come back until last year. It feels like coming home. I'm really pleased with how the race went."
Other notable masters finishers include: Elva Dryer, the 1997 Freihofer's overall champion, who was sixth (19:42); and Joan Benoit Samuelson, the 1984 Olympic gold medalist in the marathon and longtime Freihofer's participant, who was seventh (19:52).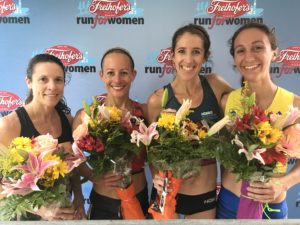 "We knew it was going to be an exciting race this year," said Patrick Lynskey, the event's co-director. "For us to have four women under 16 minutes is pretty incredible. Jen Rhines ran a great race; she was even faster than last year. And having Kelsey Chmiel, a local runner finishing in the top 10, is amazing!
"Overall, we had more than 3,500 women come out and participate in a healthy lifestyle event in the city of Albany. It was a memorable way to cap off our 40th anniversary year, and we're looking forward to our 41st!"
-30-
Results: 40th Annual Freihofer's Run for Women 5K
Open
1 Sarah Pagano (Brighton, Mass.) 15:48 ($10,000)
2 Steph Bruce (Flagstaff, Ariz.) 15:53 ($5,000)
3 Diane Nukuri (Flagstaff, Ariz.) 15:56 ($3,000)
4 Allie Kieffer (Buffalo, N.Y.) 15:56 ($2,000)
5 Jessica Tonn (Concord, Mass.) 16:04 ($1,000)
6 Emma Bates (Boise, Idaho) 16:09 ($750)
7 Lindsay Flanagan (Louisville, Colo.) 16:28 ($500)
8 Kaitlin Goodman (Providence, R.I.) 16:34 ($300)
9 Jen Rhines (San Diego, Calif.) 16:44 ($250)
10 Kelsey Chmiel (Greenfield Center, N.Y.) 16:45 (High school)
11 Kristin Heckert (Bolinbrook, N.J.) 16:46 ($200)
12 Maegan Krifchin (Bellmore, N.Y.) 17:02
13 Hannah Reinhardt (Albany, N.Y.) 17:35
14 Rose Mascoli (Conshohocken, Pa.) 17:35
15 Julia Zachgo (Rexford, N.Y.) 17:47
16 Diane Ryan (Ballston Spa, N.Y.) 17:50
17 Jennifer Mortimer (Bedford, N.H.) 18:04
18 Nicole Soblosky (Albany, N.Y.) 18:10
19 Christine Myers (Altamont, N.Y.) 18:14
20 Cassandra Henkiel (Austin, Texas) 18:26
Masters (Over 40)
1 Jen Rhines (San Diego, Calif.) 16:44 ($750)
2 Cassandra Henkiel (Austin, Texas) 18:26 ($500)
3 Christy Peterson (North Wales, Pa.) 18:27 ($350)
4 Mary Pardi (Falmouth, Maine) 18:52 ($200)
5 Marisa Sutera Strange (Pleasant Valley, N.Y.) 18:55 ($100)
Sponsors include the Charles Freihofer Baking Company, Price Chopper/Market 32, The City of Albany, 99.5 The River, Audi Albany, and Mack Equipment.
-30-